Twenty Blocks Stabilized!
It was so much easier the second time around. What was different?
I purchased a 15 1/2 " x 15 1/2" ruler. This simple ruler assisted me in making more exacting square blocks. It also helped me center the numbers and names. Before stabilizing I centered the ruler to the front or back of the shirt. With the rotary cutter I sliced slits about 1/2 inch away from the top and sides. Next I was able to place the non-woven sheer weight fusible interfacing so the the top matched the top slit and the interfacing edges fit equally within the side slits. I pressed the fusible interfacing with a dry iron. The fusible interfacing was initially cut 17" x 17." Now with the fusible interfacing fused to the shirt I was able to center the 15 1/2" x 15 1/2" ruler and rotary cut around the square.
On my design board are the blocks for the first row. I am so happy how they came out! Each block has 3 frames, the first is Kona Cotton Ash, the second frame is Kona Cotton Red and the third row is the frame creating the shadow using both Kona Cotton Ash and Black. Each block is 21" x 21."
This baseball t-shirt quilt is for my oldest grandson, Tyler. When he saw the one I made for Caleb he asked his dad, Do you think she would make one for me?" Well you know I was sucker for that even though I had already intended to make him one. Funny the boys call me "Granny J." Sounds old doesn't it? But it is a title of endearment to me.
Tyler is in his second year of college and doing quite well being on the Dean's List. Baseball didn't work out for him in college for various reasons. He played ball all through elementary, middle and high school. He was a darn good player where scouts were paying attention to him. He played on college showcase baseball teams.
My son Ty created and established the non-profit organization "Rebels" as you can see across one of the blocks above. By word of mouth the organization grew because parents heard how the coaches were interested in perfecting each team members area of talent. No screaming was permitted! I have several t-shirts in my own wardrobe with "Rebels" adorned across it. I am proud to wear them!
This quilt is going to size out to 84" x 105", a nice size quilt wouldn't you say?
I had planned on adding sashing but with the large blocks this would make it humongous! This was one time I was grateful for my design board where I noticed that the shadows would show well with the adjacent blocks being Ash and would help show off the shadowing.
I am contemplating quilting it in segments, possibly by rows. Caleb's quilt was such a back breaker free motion quilting it on my domestic machine because of the weight and size. I can't fathom the idea of doing it again. Ditch stitching in the frames and free motion quilting the centers and outlining the numbers and letters should be a sufficient amount of quilting.
My lamp makes a perfect place to hold all the strips for the frames.
My weekend was completed with more happiness when by surprise opening up my client's mail finding a gift for me from a short-term missionary. She had traveled to Italy to immerse herself in Italian language school. It is the most beautiful oriental silk scarf with variegated shades of red. I had to wear it to church this morning. It was perfect as it was quite chilly this morning.
Linking up with: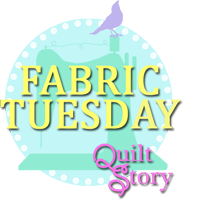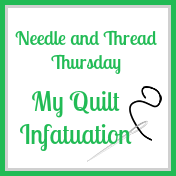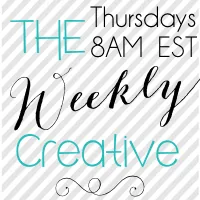 Thanks for visiting! I hope you have been inspired!