It is so nice to find a bit of time to blog and quilt! Miss all my blogging friends! Thank you to all who sent emails wondering if I was doing okay hoping that I wasn't sick.
January means meeting all those tax deadlines and closing the books for all my accounting clients. I am seeing the end of the rainbow of finishing these tasks. You know the old adage all work makes "Jack" a dull boy! Today Joanie needed to play!
Read to the bottom for learn more about the Bloom Project.
At Christmastime I had all the blocks made for the pictured baseball t-shirt quilt. Currently, they are in 3 sections for freemotion quilting with 2 sections having 2 rows sewn together and the center section being 1 row. I have two more blocks to quilt on the bottom section that will complete the first section with two more sections left to quilt.
As you can see I am not using pins to baste. I am having excellent results using basting spray.The difference this time around is using a lighter amount of spray which now my needle is not collecting sticky stuff and snapping my thread. This was taking a step of faith since I am meandering free motion quilting. If I had to rethread the needle and start again this would have created many beginning and ends and increase my frustration levels. So a big sigh of relief!
Take note that on the backside the backing is taunt with no creases. Admittedly this took several attempts to achieve which now I have a plan for the remaining sections on how to make it more efficient and quicker to sandwich the front, batting and backing.
When sandwiching the remaining sections I will begin with spray basting both sides of the batting. Next I will have my backing taped to the floor to assure that it is taunt and lay the batting over the backing or possibly get out my boards and sandwich it Sharon Schamber's tabletop method. Finally to complete the sandwich I will lay the top section on the batting.
After free motion quilting each section I will then sew the sections together. I am not quilting to the edge allowing enough room to seam the blocks together. I will hand sew the seams on the backside. I am thinking about using a light weight double side fusible Heat N Bond to secure the seams and for easier hand stitching.
The fun part to making this quilt thus far was showing a picture of it to my grandson at Christmastime. He wanted to know how long it would take me to finish in his quiet-like demeanor. I told him probably another month knowing January was a busy month for me. He seemed a bit disappointed that it would take a month. I mentioned it to my son that I showed a picture of the baseball t-shirt/jersey quilt to Tyler. Ty, my son, said he was quite excited about it! Okay we are talking about a teenage boy who typically doesn't say much who happened to mention this to his dad! This is amazing to me and I am quite delighted he is looking forward to receiving it with anticipation. -
Isn't that the best part about making a quilt for someone?
2014 Project UFO and NewFo
Creative individuals love to create new projects! Common thread with most quilters, knitters and etc. is that we collect unfinished projects. We want to finish them but easily we become enthusiastic about starting a new one.
Does this describe you?
If so, here is a follow along to help you to bloom what you have started and and will begin!
Grab the button here for the challenge here.
So come on and be encouraged and to do the same for others who want to complete those existing UFOs, and at the same time create new ones for 2014.
Linking up with: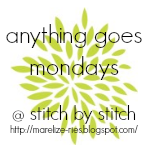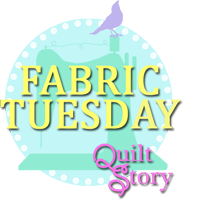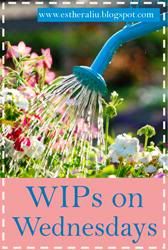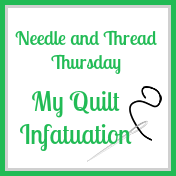 Thank you for visiting and wishing you a great sewing or quilting day!