I will be just in time for Christmas in July!
Tall Christmas Tree flimsy was finished with May's OMG, One Monthly Goal.You can see the Tall Christmas tree flimsy here. Now that I have a tree what is a tree without decorations? So of course I have been thinking about what sort of decorations will make a Tall Christmas Tree sing.
I did add candlesticks and flames, though not attached. I am thinking about shortening the candles a wee bit so the tree doesn't look so overwhelmed with candles as pretty as they may be. That is one part of June's goal - shorten the candlesticks.
This evening I ordered Christmas fabric for the decorations. I had to pull the trigger and buy quickly as already one of my selections sitting in the sales cart sold! I was a bit disappointed as I really wanted that particular fabric with the candy swirls. The picture to the left shows several of the fabrics purchased for fussy cut ornaments. So the second part of June's goal is to cut and sew ornaments.

Now swinging back to Spring
I have joined in with a group of quilters participating in a Spring Block Swap. The blocks are due in November and I have already received two in the mail. I love the butterfly and the lady bug!!
The Posies Block is the one I am sewing. The picture shown here is not the fabric I am using but the colors are close. The block is going to be made up of all batik fabric.
The third part of my June OMG, One Monthly Goal is to complete 16 Posie blocks. I have 16 Posie heads completed and now in the process of chain stitching the other 16 heads.
You can see a picture of my completed Posie heads here.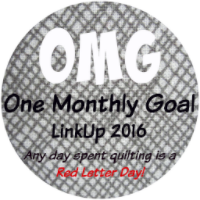 I have a third goal for the month of June. I have my fingers and toes crossed hoping I will find the time!! It is to finish my design board. My little space is a combination office and quilting studio. I won't be able to use the full wall space as once planned since I needed to move my desk right against it to squeeze some stacking cubes in the other corner for office supplies.
The left side is completed. The right side needs batting wrapped on it and then needs to be hung so it reaches the ceiling. I have been layering projects on top of each other. At the moment I have documents pinned which will have to find a new place. Maybe that is what I will do once I complete this message.
Hope to see you at Red Letter Quilts where Heidi is hosting OMG, One Monthly Goal.
Thank you for visiting and wishing you a great sewing or quilting day!