Christmas in April
April is going to be a very busy month for me business wise. Therefore, I am choosing a rather small uncompleted project to finish this month. For certain I plan to complete the Carpenter Star flimsy by sandwiching it, quilting it and binding it. It was a gifted pattern while on a quilt retreat last September. Many of the attendees made up this same pattern having seen some lovely pillows completed and other blocks in a variety of different colors and fabrics. I chose Christmas fabric and decided to make a wall hanging to adorn my walls at Christmas. My version has 3 added borders to the block. Better to get it done now than wait for the busy season when stretched in December. I have some other ideas brewing on how to make it more Christmasy.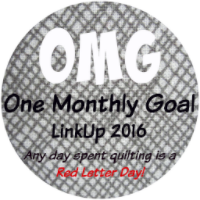 And just in case I have underestimated myself on how much is possible to complete in April I plan to complete another Christmas flimsy using Tall Trim the Tree pattern purchased at the same quilt retreat as mentioned above. Fabric in the picture below is from
Thousands of Bolts
. They were having a great sale on fabric. I am so excited about making this in order to have yet another quilt to decorate my walls come Christmastime.
Pictured below is another project in the works. It isn't a quilt planned to be finished this month or next month, or the month after that.The blocks are paper pieced and it takes me about one week to make 2 blocks. While in the shower the other morning I wondered how a stripe set-in-block would look in "Bird's Nest in Wyoming Valley" It looks rather Christmasy too, though not intended. Ivory shows off the blocks more and frames it bit while the stripes brightens the quilt up. The green set-in blocks with larger borders looks great too!
Thank you for visiting and wishing you a great sewing or quilting day!