Oh my Gosh! February went by in a hurry, and now it is time to plan the next project to enter in
OMG, A Monthly Goal.
It wasn't too difficult to decide which one it would be as I need to complete a baby quilt for a gift in March. My inspiration came from a picture of the nursery already in place having a woodland theme. The couple is so excited that it is going to be a boy! They have 3 girls, precious ones at that! Father and grandfather have great plans for this newborn baby boy with visions of hiking and fishing in the woodlands.
I found this cute fabric with woodland animals which is in the color scheme of the nursery. Stroke of luck or was it divine orchestration, but anyways happy to have a focus fabric to plan the rest of the quilt. As you can see I fussy cut the animals for the center of each log cabin block. The top part of the log cabin represents trees and the sky. Isn't that too cute?
There will be another block that will be placed alternate to each of the log cabin blocks. The block is Shoo-Fly. I am still in the design process and still need to make the quilt a bit bigger, possibly sashing or more than one border. Maybe a border that is another block pattern. Wouldn't that be cute?
I actually purchased a pattern that inspired me but I ended up redesigning it using Electric Quilt. I replaced the appliqued frog with the log cabin blocks but using the same Shoo-Fly block for the alternate block as the pattern used.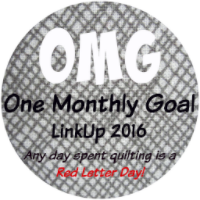 Thank you for visiting and wishing you a great sewing or quilting day!