Hello! So happy you are visiting! Take a peek at what is going on in my corner!


Spider Web Block
Every block has become a challenge to determine which design to free motion quilt staying within parameters of grids or lines, feathers and free space hoping that it will enhance the quilt block. I scanned through my Pinterest board of FMQ motifs and Designs to see if there is anything that triggers an idea. The center medallion was one that was used in a wedding ring quilt. I had to improvise the medallion in order to fit the 4 point star center.
I am quite pleased with how the Spider Web block turned out! The center is a feather medallion that is flanked with lines coming toward it. The lines actually help the strippy parts of the block to resemble the look of a spider web. That was by accident and not planned.
Hexies In a Strip Block
The Hexies in a Strip block was quite another challenge since there was a lot of negative space. I happened to have a large feather wreath stencil which I marked on the quilt top and then set out to free motion quilt. Not being satisfied due to the design in comparison with the rest of the quilting was too large which left a lot of spacing between the stitching. So I stitched more feathers within each feather.When I see it on the quilt I am pleased with the end results.
If you look closely you can see that the hexies have been cross hatched. In the corners there are double lines with spacing between the next set.
I am half way there to finishing this quilt. Only 10 more blocks to go. Back at it!
Tell me what is happening in your sewing room or quilting studio in the comment box.
I love would love to see what you are up to lately
!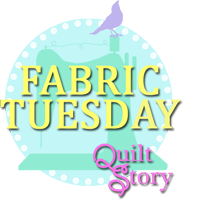 Icons are linked to each linky party.